Quick Links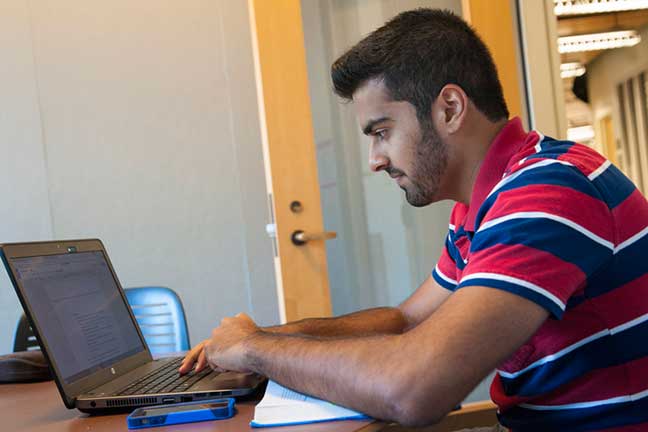 PwC Innovation Challenge UConn Winner
Please join The Graduate School in congratulating Mac Montana, winner of the UConn round for this year's PwC Innovation Challenge. Mac is responding to the following question from the competition and will now continue on to the global competition.
We are living through a fundamental transformation in the way we work; automation and "thinking machines" are replacing human tasks, changing the skills that organisations are looking for in their people. But what will the future look like? PwC has developed four scenarios in their Workforce of the Future study: a Red World where innovation rules; a Blue World where corporate is king; a Green World where companies care, and a Yellow World where humans come first.
Assuming you find yourself on a journey that looks like it ends in a "Green and Yellow Worlds" scenario where Companies Care and Humans Come First, what are the pros and cons for you? what skills will be important for individuals to thrive in this world, and how do you plan on adapting to it?
Post-Doctoral Datablitz 2018 Competition Winners
The Graduate School is proud to announce the winners of this year's Post-Doctoral Datablitz competition. After an intense half-hour of deliberation by our panel of judges, Veronica Makowsky, Jaci Vanheest, Anne Oeldorf-Hirsch, Michael Finiguerra, and Kay Gruder, three prizes were awarded:
1st place, and the people's choice award, went to Rebecca A. Campbell-Montalvo's "The Birthplace of Errors in Education Statistics: The Overlooked Site of K-12 School Registration
2nd place went to Islam Mosa's "Life-lasting Power for Cardiac Pacemakers"
3rd place went to Mary Himmelstein's "At the Heart of Chronic Disease: Weight Discrimination Increases Risk for Cardiometabolic Disease"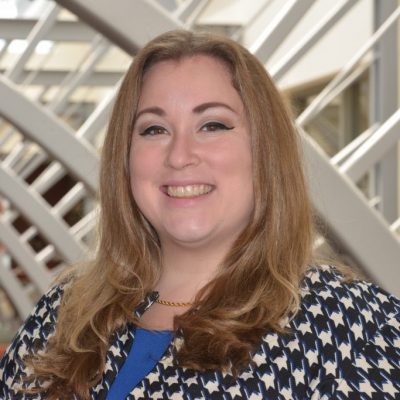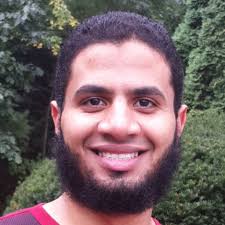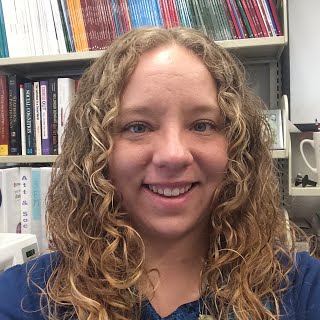 Rebecca A. Campbell-Motalvo, 2018 Datablitz Winner and People's Choice Award
Islam Mosa, DataBlitz 2018 Second Place Winner
Mary Himmelstein, Datablitz 2018 Third-Place Winner
Sarah McAnulty receives AAUW Fellowship
Sarah McAnulty of the University of Connecticut's Department of Molecular and Cell Biology has received a American Association of University Women American Dissertation Fellowship. With this award, Sarah will conduct her thesis work on the Hawaiian bobtail squid and its symbiosis with a bioluminescent bacterium, Vibrio fischeri. Sarah's work is uncovering how animal immune cells distinguish between their beneficial bacteria and others they encounter. For more information about AAUW Fellowships, please visit: https://www.aauw.org/what-we-do/educational-funding-and-awards/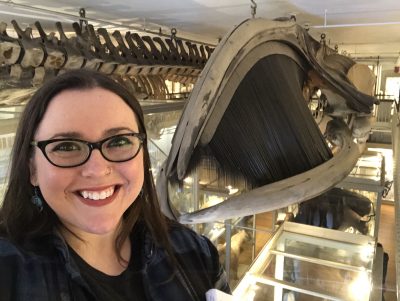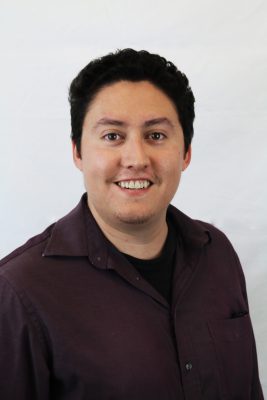 Marc Reyes receives Fullbright
Marc Reyes of the University of Connecticut's Department of History has received a Fulbright U.S. Student Program Award to India from the U.S. Department of State and the J. William Fulbright Foreign Scholarship Board. Reyes will conduct research in Delhi, Mumbai, and Ahmedabad. He will be affiliated with Jawaharlal Nehru University's School of International Studies. His project, "In the Circle of Great Powers: India, the United States, and the Postcolonial Atomic State, 1947-1974" examines the political and cultural contexts of India's atomic energy program and U.S. involvement in the development of their nuclear weapons program.
Marth Award Winner
Colleagues, students, family, and friends gathered recently at a reception to celebrate with Professor Maria Luz Fernandez, this year's recipient of the Edward C. Marth Mentorship Award.  This award, established by the UConn AAUP to honor Ed Marth, former Executive Director of the UConn AAUP chapter, recognizes a faculty member for outstanding leadership and dedication to excellence in mentoring graduate students. As a professor in the Department of Nutritional Sciences, Dr. Fernandez has epitomized all of the qualities celebrated by this award.  Not only is she a world-renowned scholar, but she is also a tireless advocate for graduate students and graduate education more generally.  She has supervised over 50 graduate students (PhD and MS), regularly publishing with student co-authors, and has played a prominent role in the recruitment and retention of minority graduate students at UConn. Dean Kent Holsinger from The Graduate School presided over the ceremony conferring this award to Dr. Fernandez and led the toast honoring her many contributions.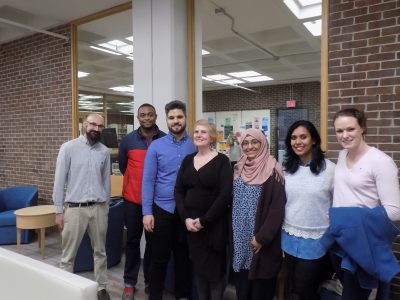 Ford Foundation Fellowships Honorable Mention List for 2018
Congratulations to Ajhanai Channel Inez Newton from NEAG, Julian Akil Rose from Engineering, and Andrea Maria Suria from Biological and Biomedical Sciences. These outstanding scholars have been accorded honorable mention status in the 2018 Ford Foundation Fellowship Programs competition administered by the National Academies of Sciences, Engineering, and Medicine. The programs seek to increase the diversity of the nation's college and university faculties by increasing their ethnic and racial diversity, to maximize the educational benefits of diversity, and to increase the number of professors who can and will use diversity as a resource for enriching the education of all students.
7,000+
Degree-seeking graduate students
28%
International students from 102 countries
3 hrs
Or less to Boston and NYC
2,600+
Degrees awarded in 2015-2016