Quick Links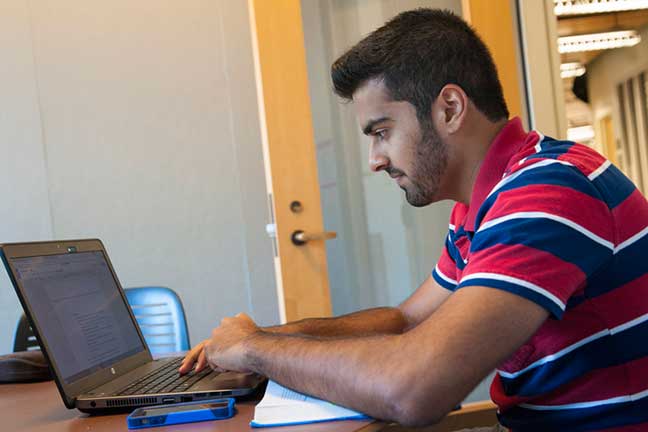 Upcoming Defenses
UConn PhD candidate, Koyel Sen, wins UConn's 3MT competition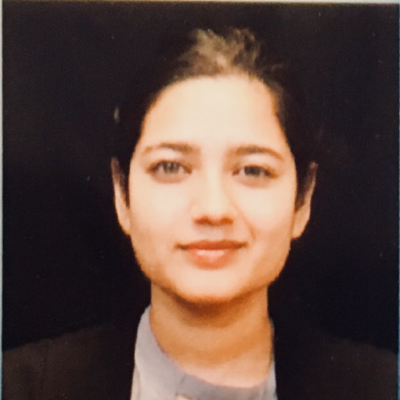 It is with great pleasure that The Graduate School can announce this year's three-minute-thesis winners. If you haven't heard about the competition before, it is a two-stage competition where doctoral students present their research in an impactful and condensed three-minute version. The presentation of UConn's winner is then submitted to the global competition, competing against universities from around the globe. This year's UConn winner is Koyel Sen from Pharmaceutical Sciences with her presentation on custom-built dosages of drugs in pill form using 3D printing techniques. In response to winning the competition, Koyel said: "Although I have always been passionate about my work, I am not very good at public speaking and I have always felt this gap to convey the message of what I am exactly doing in my research i.e. '3D printing of solid dosage form' and how it can impact our society. The 3MT competition pushed me to explore this gap where I got to be more creative, to convey the message of my research to a non-specialist audience in 180 seconds." Honorable mentions were also awarded to Anna Sjodin from Ecology and Evolutionary Biology, Byung Jun from Materials Science Engineering, and Anand Gupta from Pharmaceutical Sciences.
UConn PhD candidate, Shreya Kulkarni, awarded Baxter Young Investigator Award
Shreya Kulkarni, PhD candidate of Pharmaceutical Sciences in the School of Pharmacy, has been awarded the Young Investigator Award by Baxter for her research on 'Reconstitution of high concentration lyophilized protein formulations.' Shreya was presented with the award at Baxter's international headquarters in Deerfield, Illinois. Shreya and her advisor, Professor Robin Bogner, presented the research to members of Baxter's organization and winners of other awards. Reflecting on the award, Shreya stated that "it is a great honor to receive this highly competitive award. None of this would have been possible without the continued support and guidance from my advisor Professor Robin Bogner. Dr. Bogner has been instrumental in motivating me to delve deeper into every research problem. I would also like to thank my thesis committee and our collaborators for the helpful discussions and suggestions on my thesis research. I feel very lucky to be part of the Pharmaceutics program at UConn!"
Please join the Graduate School in congratulating Shreya for her outstanding accomplishments!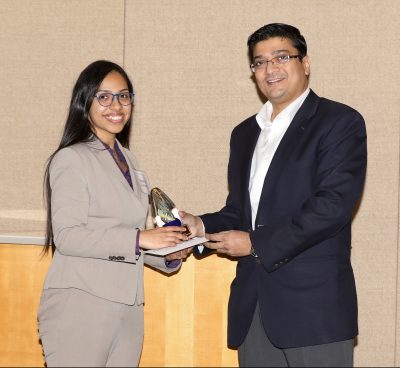 PwC Innovation Challenge UConn Winner
Please join The Graduate School in congratulating Mac Montana, winner of the UConn round for this year's PwC Innovation Challenge. Mac is responding to the following question from the competition and will now continue on to the global competition.
We are living through a fundamental transformation in the way we work; automation and "thinking machines" are replacing human tasks, changing the skills that organisations are looking for in their people. But what will the future look like? PwC has developed four scenarios in their Workforce of the Future study: a Red World where innovation rules; a Blue World where corporate is king; a Green World where companies care, and a Yellow World where humans come first.
Assuming you find yourself on a journey that looks like it ends in a "Green and Yellow Worlds" scenario where Companies Care and Humans Come First, what are the pros and cons for you? what skills will be important for individuals to thrive in this world, and how do you plan on adapting to it?
Post-Doctoral Datablitz 2018 Competition Winners
The Graduate School is proud to announce the winners of this year's Post-Doctoral Datablitz competition. After an intense half-hour of deliberation by our panel of judges, Veronica Makowsky, Jaci Vanheest, Anne Oeldorf-Hirsch, Michael Finiguerra, and Kay Gruder, three prizes were awarded:
1st place, and the people's choice award, went to Rebecca A. Campbell-Montalvo's "The Birthplace of Errors in Education Statistics: The Overlooked Site of K-12 School Registration
2nd place went to Islam Mosa's "Life-lasting Power for Cardiac Pacemakers"
3rd place went to Mary Himmelstein's "At the Heart of Chronic Disease: Weight Discrimination Increases Risk for Cardiometabolic Disease"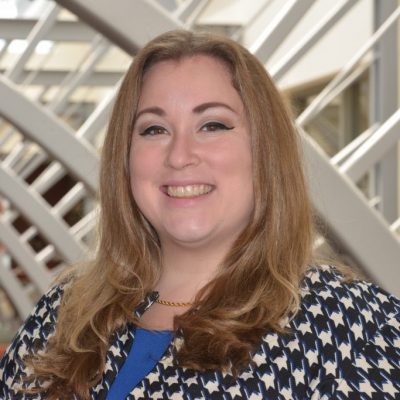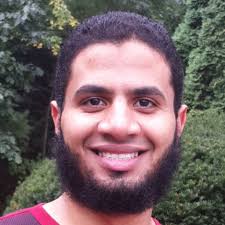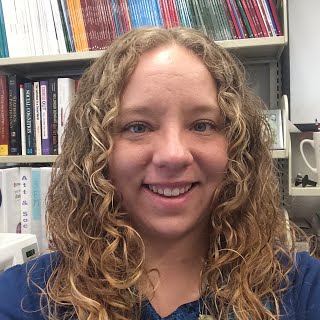 Rebecca A. Campbell-Motalvo, 2018 Datablitz Winner and People's Choice Award
Islam Mosa, DataBlitz 2018 Second Place Winner
Mary Himmelstein, Datablitz 2018 Third-Place Winner
Sarah McAnulty receives AAUW Fellowship
Sarah McAnulty of the University of Connecticut's Department of Molecular and Cell Biology has received a American Association of University Women American Dissertation Fellowship. With this award, Sarah will conduct her thesis work on the Hawaiian bobtail squid and its symbiosis with a bioluminescent bacterium, Vibrio fischeri. Sarah's work is uncovering how animal immune cells distinguish between their beneficial bacteria and others they encounter. For more information about AAUW Fellowships, please visit: https://www.aauw.org/what-we-do/educational-funding-and-awards/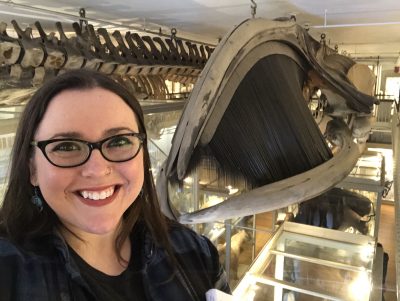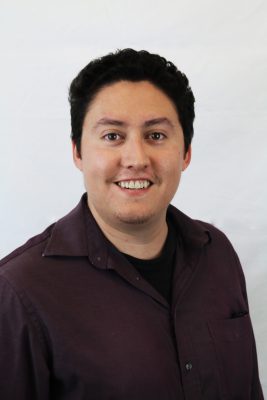 Marc Reyes receives Fullbright
Marc Reyes of the University of Connecticut's Department of History has received a Fulbright U.S. Student Program Award to India from the U.S. Department of State and the J. William Fulbright Foreign Scholarship Board. Reyes will conduct research in Delhi, Mumbai, and Ahmedabad. He will be affiliated with Jawaharlal Nehru University's School of International Studies. His project, "In the Circle of Great Powers: India, the United States, and the Postcolonial Atomic State, 1947-1974" examines the political and cultural contexts of India's atomic energy program and U.S. involvement in the development of their nuclear weapons program.
7,000+
Degree-seeking graduate students
28%
International students from 102 countries
3 hrs
Or less to Boston and NYC
2,600+
Degrees awarded in 2015-2016