Graduate Student Appreciation Week
Monday, April 3rd to Friday, April 7th is this year's Graduate Student Appreciation Week, a week full of online and in-person activities and events designed to celebrate graduate students here at UConn.
According to National Association of Graduate-Professional Students: "In 1993, three students, Tony Rosati, Gina Pearson & Anne Holt, all activists within the National Association of Graduate-Professional Students, wanted to find a way to physically manifest support and appreciation of the contributions, impact and value of graduate students. Their effort led to a cooperative initiative called National Graduate & Professional Student Appreciation Week."
We are excited to celebrate your achievements at UConn through events hosted by The Graduate School, campus partners and academic departments.
In addition, we would like to appreciate and acknowledge that the land on which The Graduate School gathers is the territory of the Mohegan, Mashantucket Pequot, Eastern Pequot, Schaghticoke, Golden Hill Paugussett, Nipmuc, and Lenape Peoples, who have stewarded this land throughout the generations. We thank them for their strength and resilience in protecting this land, and aspire to uphold our responsibilities according to their example.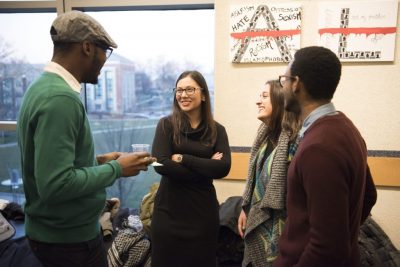 Headshots and LinkedIn Review
Center for Career Development
10:30 AM - 12:30 PM
Wilbur Cross Building, Second Floor
Take a LinkedIn headshot that can be used to match your growing online presence. At the same location and time, join a 10-minute one-on-one LinkedIn profile review session. Career coaches from the Center for Career Development will review your LinkedIn profile with you and offer tips and strategies to help you optimize your profile to confidently reach out to others. 
No signup is required for both sessions. 
Contact: Zoe Damiao Xu
Coffee Hour and Snacks
Puerto Rican/Latin American Cultural Center
12:00 PM - 1:30 PM
PRLACC, Student Union 438
Join the Puerto Rican/Latin American Cultural Center (PRLACC) for a Cafecito Comunitario. Meet the PRLACC staff and learn about PRLACC's programs and services. Drop in welcome- sign up is not required.
Contact: Michael Vidal
Pet Therapy
The Graduate School
1:30 PM - 3:00 PM
The Graduate School Lobby, Whetten 2nd Floor
On Monday April 3 we will be hosting pet therapy in the graduate school lobby from 1:30-3PM. Pet therapy is known to help people release serotonin, prolactin, and oxytocin. These hormone generate a relaxation and stress reducing response, according to UCLA Health. This can help support good mental health!
Contact: Tori Sanchez
Coffee Hour with Donuts
Rainbow Center
10:30 AM - 12:00 PM
Rainbow Center, Student Union 403
Please join the Rainbow Center, in collaboration with The Graduate School, for a Coffee Hour with Donuts! For this event, students can stop by the Rainbow Center to grab a quick cup of coffee and a treat before their day starts! Drop-ins are welcome – no signup is required. We hope to see you all there!
Contact: Kelsey O'Neil
Create Your Own Cookie
International Student & Scholar Services
11:00 AM - 12:00 PM
CISS 202
Please join CISS for a fun, hand-on activity-Create Your Own Cookies on Tuesday, April 4, 11am-12pm, CISS 202 as part of our Graduate Student Appreciation Week event.
Pick your dough, mix-ins, stuffings and toppings! The combination is endless. Get creative and then eat it. Hope to see you at our event. Please RSVP here
Contact: Huong Pham
Smart Start Workshop
Women's Center
12:00 PM - 3:00 PM
Women's Center
Start Smart is specifically designed to empower women college students who are about to enter the job market with the skills and confidence to successfully negotiate their salary and benefits packages. By learning strategies and practicing effective language, participants gain valuable skills they can use throughout their lives — well beyond their next negotiation. Students can expect to learn:
About the gender pay gap, including its personal consequences.

How to quantify the market value of their education, skills, and experience.

How to conduct objective market research and determine a fair target salary.

How to create a strategic pitch and respond to salary offers
Contact: Daniela Iniestra Varelas
Tea Time
Middle Eastern Cultural Programs
1:30 PM - 2:30 PM
ODI Commons
Join Middle Eastern Cultural Programs (MECP) for a tea hour. Connect with MECP staff and learn about MECP programs. Drop in is welcome – sign up is not required.
Contact: Michael Vidal
Community Connection: Graduate Students with Disabilities and/or Neurodivergence
Student Health & Wellness, The Graduate School, Office of Diversity and Inclusion and Center for Students with Disabilities-Interpreting Services
4:00 PM - 5:30 PM
ODI Commons: Student Union 103
You are invited to come relax in the ODI Commons, enjoy some appetizers, and meet other graduate students. We appreciate you and want to take this time to show it!  We will also provide the opportunity to connect with Lisa Famularo, an Assistant Director, Equity and Inclusion, at the Center for Career Development.  Lisa will share some information and different things to consider as you transition to the workforce after graduate school, including resources available for you through the Center.  
Let us know if you can make it (or just show up)
Contact: Cinnamon Adams
Coffee Hour
Native American Cultural Programs
9:30 AM - 10:30 AM
ODI Commons
Join Native American Cultural Programs (NACP) for a coffee hour. Connect with NACP staff and learn about NACP programs. Drop in is welcome – sign up is not required
Contact: Michael Vidal
Better Cite than Sorry: Reference Building and Data Visualization Workshop
Asian American Cultural Center
12:00 PM - 1:30 PM
Asian American Cultural Center
Joins AsACC for a workshop on data analysis, visualization, and reference building software. Lunch will be provided. Attendees can enter into a give away of ONE $50 credit towards a textbook or book of relevant topic of choice!
This workshop will include an overview of the software available to UConn students for data analysis and visualization, and an introduction to citation management tools. In part one, participants will review strategies for navigating UConn's software catalogue and learn where to find directions for downloading software onto their personal computers. Additionally, we will discuss ways to integrate open-source software into data analysis. In part two, participants will learn how citation management tools can improve their research and writing workflows. The presentation will highlight common features of citation managers, such as organizing references and associated digital files, enabling annotation and sharing of references, and simplifying citing while writing. Participants will also learn which citation management tools are supported by the UConn Library and how to select the one that best fits their needs.
Contact: Merz Lim
Stress Management Kahoot
The Graduate School
6:15 PM
Zoom
Play Kahoot! And Win a Prize!
 Join us on April 6 at 6:15PM for an interactive and fun game of Kahoot! that will focus on stress management! Check out some facts and hear about resources on campus while winning fun prizes! Open to Graduate Students at all UConn Campuses.
Contact: Tori Sanchez
Grad Student Research Colloquium
Digital Humanities and Media Studies Initiative
12:00 PM
Humanities Institute Conference Room, Homer Babbidge Library
With pizza and refreshments
Featuring the work of graduate students from a variety of departments, including those in Anke Finger's "The Multimodal Scholar" graduate seminar
Contact: UCHI